IBPS Clerk 2018: Notification Out! Exam Dates, Pattern & Syllabus
IBPS Clerk 2018: Any eligible candidate, who aspires to join any of the Participating Organisations listed at (A) as a Clerk or in a similar post in that cadre, is required to register for the Common Recruitment Process (CRP Clerks -VIII). The examination will be two tier i.e. the online examination will be held in two phases, Online Preliminary and Online Main. Candidates who will qualify in Online Preliminary Examination and shortlisted will have to appear for Online Main Examination. Depending on the vacancies to be filled in during the financial year 2019-20 based on the business needs of the Participating Organisations and as reported to IBPS, candidates shortlisted will be provisionally allotted to one of the Participating Organisations keeping in view the spirit of Govt. Guidelines on reservation policy, administrative convenience, etc. The validity for CRP Clerks-VIII will automatically expire at the close of business on 31.03.2020 with or without giving any notice.
IBPS clerk 2018 notification
As per IBPS 2018 Official Calendar Notification will come in the month of September 2018 for IBPS CWE Clerk Examination. The Online Registration for IBPS Clerk will tentatively be from 12 September to 03 Octobr 2018. IBPS has introduced 7883 vacancies for IBPS Clerk 2017 Exam.
The candidates eligible and interested can register themselves online for the said post on the official IBPS website.www.ibps.in.
IBPS clerk 2018 vacancies
Every year more than 25 lakh aspirants appear for the IBPS Bank Clerk examination. The Online Registration for IBPS Clerk 2018 will start from September 2017. In the year 2017 there were 7883 vacancies for the post of Clerical. This year we are expecting arounf 8000 -9000 Clerical vacancies in all public sector banks.
Expected No. of Vacancies : 8000- 9000
IBPS clerk 2018 exam date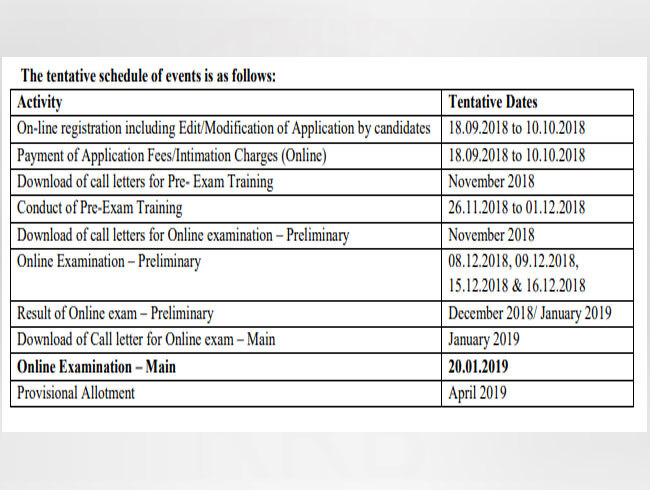 IBPS clerk 2018 exam pattern
The IBPS Clerk preliminary examination is of one hour duration and is conducted online. It has 3 sections with having 100 questions in total with a maximum score of 100 marks. There is negative marking in IBPS Clerk Pre exam as 0.25 marks are deducted for every wrong answer. Candidates must clear the sectional cut-off to qualify for the IBPS Clerk Main exam. The section-wise details are given below:
S.No.
Name of Tests(Objective
No. of Questions
Maximum Marks
Duration

1

English Language

30

30

Composite time of 1 Hour

2

Numerical Ability

35

35

3

Reasoning Ability

35

35

Total

100

100
IBPS Clerk Mains Exam Pattern
The exam pattern of IBPS Clerk Mains is also changed. Main exam is also held online, the latest update by IBPS it has 4 sections there is 190 Question having a total score of 200 marks of 160 minutes duration.Last Year Computer Apptitude and Reasoning Ability section conduct Separately, but in the recent update both section comes together have 50 question and time duration is 45 minutes.
The candidates must attempt the sections in the same order and within the allotted time fixed by the examining body. The candidate can't leave the existing section before the time allotted. The next section can only be attempted after the current section is completed. There is a negative marking with a deduction of 0.25 marks for every mistake.
The section-wise details are given below:
| S.No. | Name of Tests(Objective | No. of Questions | Maximum Marks | Duration |
| --- | --- | --- | --- | --- |
| 1 | General/Financial Awareness | 50 | 50 | 35 minutes |
| 2 | General English | 40 | 40 | 35 minutes |
| 3 | Reasoning and Computer Aptitude | 50 | 60 | 45 minutes |
| 4 | Quantitative Aptitude | 50 | 50 | 45 minutes |
| |                        Total | 190 | 200 | 160 minutes |
Penalty for Wrong Answers:
A penalty for every incorrect answer will be marked in the Objective Tests of both Preliminary and Mains exams. Every wrong answer will be penalized by deducting 0.25 of the marks assigned to that question. There will be no penalty for leaving a question blank, i.e. in case no answer is marked by the candidate.
Final Score Calculation for IBPS Clerk Exam:
There are certain important points on the basis of which the final score for the IBPS Clerk exam is calculated:
• Marks scored in the Preliminary Exam (Tier-1) will not be considered in the final score. These are only taken into account to qualify Mains Exam (Tier-2).
• Candidates need to qualify Phase-2 and Interview individually to be eligible for final worth.
• The aggregate of 100 marks is used for the final merit list for each category. Candidates with high merit rank in each category are finally selected.
IBPS Clerk 2018 Syllabus
IBPS clerk 2018 salary
A bank clerk receives a dignified salary along with other allowances such as Dearness Allowance (DA), House Rent Allowance (HRA), Transport Allowance (TA) etc. You will get multiple chances to be promoted to higher levels depending on your performance. Now go through the salary structure of an IBPS Clerk provided below!
Basic Pay – Rs. 11, 765 – 31, 540/-
After serving for 1 year you will be subjected to an increment of Rs. 400/- to Rs. 500.
Dearness Allowances are released by the banks on quarterly term based on Consumer Price Index.
House Rent Allowance will be allotted to you according to the place of posting, ranging from Rs. 1176.5/- to Rs. 1058.85/-.
An IBPS Clerk also gets transport allowance which is approximately Rs. 425/-.
In hand salary will be approx 22K.
ibps clerk 2018 notification pdf download: Click Here